WELL, WELL, WELL folks i have finally made my way down under 240lbs. 239lbs to be exact and yep I'm counting every lb., for those of you that are still Touring with me i should have more Tour Dates Posted soon. I've traveled through the "STATE OF EMOTIONS" and think the next show will be in the "STATE OF LOVE", YEAH I SAID IT and that applies to
SASHA
(my band) and someone of the "MALE SPECIES"(which is an entirely different blog)but any who. i just wanted to continue on the subject of "PICTURES", those dreadful things that we all try to avoid and run from. i was speaking about this to someone on
LapBandTalk.com
and how i did not have many old pics that showed my entire body. i think i have 100 of just my top half though and wasn't always pleased with those. I've came along way from where i was and had to learn how to accept what i can't change and just love me for who i am and the way that i am. this is one journey that you can't rewind and i wanted to make sure i captured every moment of it to look back on. i have became okay with the camera and taking pictures, although we still have some things to work out in our relationship as far as getting my good side...lol the truth of the matter is that PICTURES DON'T LIE ! plain and simple, it is what it is. what you see is what you get and i think that's hard to take sometime.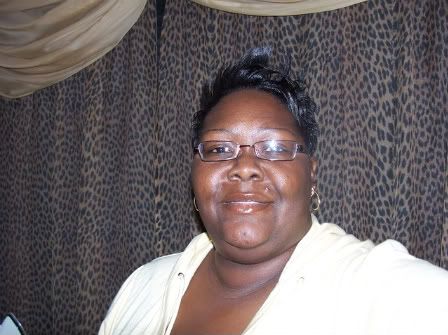 Before Surgery Feb. 08
when i got my Monroe piercing
280lbs
After Surgery 5 months post -op
4-10-09
242lbs
but never the less pictures are important, it wasn't until i placed these two pictures side by side that i finally saw what everyone else saw and was telling me. they were saying your face is so small now and i would look in the mirror and wouldn't see anything but ME. i noticed it in my clothes but my brain and the mirror was not connecting quite right because i didn't see the changes on myself. it was these same two pictures that brought me to tears because i could not believe that i was that heavy and thought it was okay. everyone always pass by me now and tell me how good i look and how well I'm doing and i say " THANK YOU". but i really want to ask them why they never saw how BIG i was getting and say something about that ? i mean come on they had to of noticed it! .. lol no family or friends didn't slap any food out of my hand or say you're pushing it!
it's my fault 100% and I'm not placing blame
and glad to have the support and encouragement now that i am on board, but DAMN i let myself go like that and y'all ass couldn't have an intervention or nothing...lmao !!
so all in all i will say that i am blessed, NO I'm not as far as some that had surgery around my same date. No I'm not pleased with the flab on my arms or that my bottom half is smaller than my top..lol and yes i do fall off the wagon and have ice cream, and No i don't make it to exercise every single day. truthfully and honestly speaking
when have women been completely satisfied with their bodies ?
we always say if i can just get a breast lift or maybe if i could just have a tummy tuck, and them after that we are not satisfied with something else.
does it really matter ? I'm learning that as long as you can love yourself it will show on the outside to others in your mood, personality and the way you carry yourself with your head up high.
and I'm still
TURNING HEADS
regardless because i just made you convert and damn near break yours to look...Admit it, I'm a Mess and
THE WORLD IS NOT READY !
MU AH LOVE YA !
Encouraging Word :
UNTIL YOU MAKE PEACE WITH WHO YOU ARE, YOU'LL NEVER BE CONTENT WITH WHAT YOU HAVE.