We All Know That Nothing Taste As Good As Thin Feels!Let Me Repeat That.... NOTHING TASTE AS GOOD AS THIN FEELS!!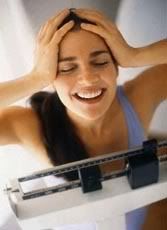 Okay so i had my visit with the nutritionist(who is wonderful & FREE) and got the nerve up to get on the scale. After removing shoes,cell phones,spare change in my pocket(i wish my clothes also)i get on the scale and low and behold I'm down another 4lbs.(GO ME)! so now I'm in the office doing the Happy Dance because I've finally
PUSHED
UNDER 250lbs. and have also lost more inches also.i still need to find ways to get in my protein and may need to just start drinking them in almost everything i have. so right now I'm 248lbs but it's a really weird thing going on with the 3's.. I'm almost 3 month post-op from surgery, I'm coming up on my 3rd Fill, and I've Lost 319lbs)can't forget the 1 in there...and according to The Nutritionist,who I've been seeing since the beginning of last year. she has me at about 2 more inches less than my last apt with her.

* 6-3-08 - 50 1/2" (PRE-OP)

* 12-16-08 - 46 3/4" (POST- OP)

* 1-13-09 - 44 1/2"
So Now I'm down a total of 31(lbs) and have lost around 6" off my waist, and this weekend i will go shopping and find out exactly what size i am really in right now
( FOR NOW).
So now i really have the Motivation to keep up the fight and practice my Model Walk on the sidewalk. I was also told that the weight is still okay to do and that it is okay to tone. I'm getting fed so many different thing until I'm getting confused now. I personally think i should walk everyday and walk, and tone 3 times a week. it would bother me if i don't get that part in and i would be very worried about having flab. not that i will be able to eliminate it all but i certainly would like to give it a good try and just deal with what ever is left. so to those who are reading this keep up the fight and keep pushing, even when you think you have stop losing.
ENCOURAGING WORD FOR TODAY
: DON'T TELL ME THE SKY IS THE LIMIT, WHEN I KNOW THERE ARE FOOTPRINTS ON THE DAMN MOON !