okay so I've decided to step it up and walk my butt off, and try to become dedicated to it in some type of way.I'm going to try and commit to everyday, but if that does not work then it'll be every other day. I'm proud to announce that i even took a break from my Sunday watching of "Lifetime" and did about an hour around the neighborhood with my earphones and my meter on a very cloudy day. I'm also thinking about trying out Zumba either by going to the class or buying the set of DVDs to do at home. it seems as if that will really get the heart going and bring on the sweat! I've also stepped up my water intake and if it was "
Drinking Time"
(1 hour after meals)i just tried to get in as much water as my stomach will hold, which wasn't much being that i got full off of it! i was even able to fight
"Head Hunger"
(all in you mind)and decided to only eat when i was hungry and not try to get in 3 meals a day just because they say you should. for me it is better to only eat when i am hungry and drink the other parts of the day, if not I'll end up snacking on something just because. which is kind of weird because sometimes it's not until 2 or 3pm until i get my 1st growl ! my next thing is to get a girdle, which i always thought were mean but now understand the importance of them.
A Girdle + Confidence + Model Walk = FABULOUS !!
I'm not sure about you guys but sometimes i have to psych myself out in order to get things done or to continue to do them. for example : it's better for me to walk on the sidewalk ,because once i get out there i have to keep going if i want to make it back home. verse the treadmill i can stop it anytime i get tired because i feel it was enough after 30min...
I've also been working on some old habits I've noticed i have, one being that i walk with my head down. so while on the sidewalk i try to think of it as
my runway and I'm doing my model walk
. that way i keep my head up, shoulders back and practice my little swing of the hips also! in a little while i should be a pro, i received 2 honks (horn) from the passing cars so i take that as they approve.
after all they are the judges...lol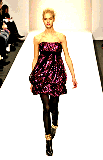 ENCOURAGING WORD FOR TODAY :
THE FUTURE DOESN'T LIE AHEAD OF YOU WAITING TO HAPPEN, IT LIE DEEP INSIDE OF YOU WAITING TO BE DISCOVERED !!